38 Chapel Street provides specialist room hire to therapists, coaches, hypnotherapists, psychotherapists, psychologists and counsellors working in South Yorkshire.
The building is situated in a quiet residential area in Hoyland which sits on the border of Barnsley, Rotherham and north Sheffield. We are conveniently located just a few minutes from M1 Junction 36 for people travelling from Leeds, Wakefield and Sheffield.
Because the building is residentially located (not in a city centre or on an industrial estate) it feels safe to visit on evenings and weekends as well as weekdays. The building is a short walk from local shops and bus routes.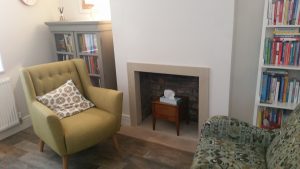 The inside space is calm and inviting. On the ground floor there is a spacious therapy room ideally sized for working therapeutically with individuals and/or couples.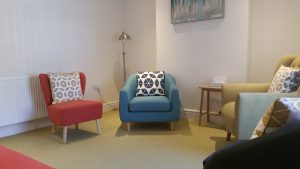 The first floor room is cosy enough for individuals and couple work, and large enough for group work in easy chairs with around 6/7 participants.
Rental is offered on an ad hoc hourly basis or on a same-day-each-week rolling monthly contract with no tie-in. Half-day rental (6 hours) is also available.
Each therapy room is equipped with fabric-covered chairs, assorted cushions, two clocks, tissues and multiple options for lighting. There are shared toilet and kitchen facilities. Free on-street parking is available.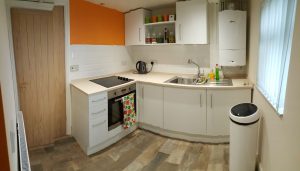 Unfortunately, at the current time, there is no wheelchair access to the building.
In accordance with our commitment to professional competency and ethical integrity applicants are expected to undergo a formal, but friendly, application process.
38 Chapel Street takes professional integrity and ethics very seriously. Practitioners must satisfy our high standards of clinical practice, qualification and continuing professional development. As self-employed professionals they are required to maintain appropriate membership of their professional body, provide adequate professional indemnity insurance and bookkeeping, and make satisfactory arrangements for supervision and support. They liaise directly with their own clients and ensure they are professional in every aspect of their practice.
For more information or to arrange a viewing please make an enquiry.